It takes a lot of lower body strength (more than we might realise) to safely and comfortably get yourself on and off the toilet seat. As you get older, lower toilet seats and weaker legs can have a detrimental effect on how easily we can move, so it can prove more challenging to stand up and sit down. Below are 3 ways to make this simpler.
Raised Toilet Seats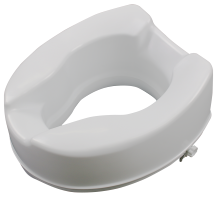 One of the simplest and most affordable ways is to use a raised toilet seat. This means the seat itself is a greater height, so there is less distance to travel between standing and sitting, making it much easier.

The benefits include:
Easy to install
Great as a temporary solution
Subtle
Can be provided in 2 different sizes
Toilet Frames & Surrounds
Another easy way to give yourself a bit more stability and support is to use a toilet surround.
These generally have an armrest either side to give the user extra leverage when lowering
and raising. They are particularly useful to anyone who may be more prone to falls.
Features:
Height adjustable
Padded armrests for comfort
Rubber feet to prevent slipping
Toilet frames with seats are also a good option as it combines
2 in 1. The seat simply clicks into position on the frame and
the front and rear cut-outs of the seat are shaped for easy
personal cleaning.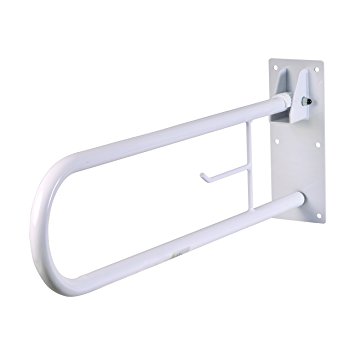 Grab Rails
Offering a more permanent solution than the other options, fold away grab rails are fixed to the wall behind the toilet and can be pulled down to offer assistance when the user needs to stand up or sit down.
Drop down rails are quite common as they are compulsory in disabled access toilets. Similar to a toilet frame, the rail offers extra leverage for the user to push up from.
In smaller bathrooms, fold away rails are a better option as they can be folded flush against the wall to save space. Grab rails with supporting legs can be supplied, which offer additional weight capacity if required.
Those who need a little help will find items like these make life much easier. Whether you need a temporary solution or you're looking for something more permanent, there are lots of toileting aids that can help. Click here to see what we can offer.